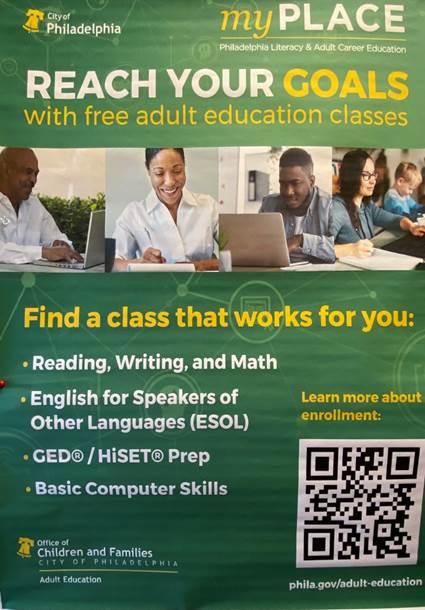 New World Association myPlace Campus
       New World Association is one of ten myPlace campuses in the City of Philadelphia. We help
adults connect to programs at 35 provider partner agencies, earn high school diplomas,
learn English Language, and get ready for the workplace. Free classes are available,
and online class options are available during COVID-19.
Are you looking to:
•  take classes to earn your high school diploma?
•  gain a GED/HiSET, or an equivalent?
•  brush up on your math and reading skills?
•  take English language classes?
•  or, sharpen your digital literacy skills?
Here is how to get started with myPLACE in three easy steps:
1.  Call the New World Association myPLACE adult education campus at 215-856-7316.
     During this call you will schedule an appointment to come in for an assessment test so you can be placed in a class   
     at appropriate level.
2. Talk to a learning coach about your education goals.
    After your assessment test, you will speak with a learning coach about what you wish to learn so we can find the   
    right class for you.
3.  Enroll in the right class for your schedule and needs.
    After learning about your goals, we will discuss available classes, and enroll you in a
    class that works with your availability and needs.